The Red Hat and open source specialist
HCS Company makes innovation a reality. With the best Red Hat specialists in the Netherlands, HCS Company builds simple and open IT together for various clients.
Translating the power of HCS Company to web
The assignment was clear. Translate the core of HCS Company into a slick, high-quality website. The open source specialist naturally also includes an open source CMS. With Neos as the core, we started together with Maibru.
We have created building blocks based on the different brand elements. These blocks make it possible to build crazy pages. With the inline editing you immediately see what the page or change looks like on the different devices. Content efficiency.
Seeing is believing
The technology-driven company has been given a face. In this case, faces. Literally and figuratively. The faces reflect the fun, quality and experience of Open Source and Red Hat technology. The new website is a reflection of the innovative character of HCS Company, because together with clients they build simple and open IT. Seeing is believing.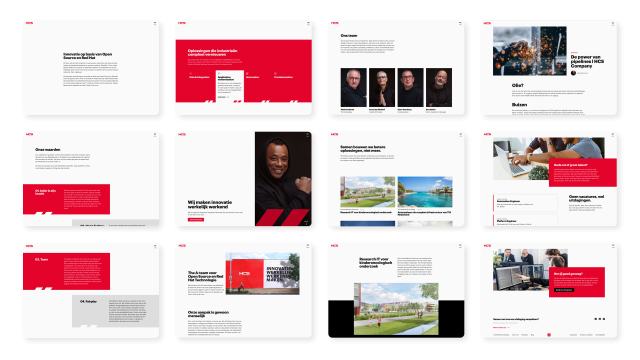 Making innovation easy
The new website uses the latest technologies in the field of (micro) animations and transitions. We make the difference by adding the right animations in subtle places. In addition, we use a number of smart features that make certain content inherited and therefore it doesn't have to be kept in different places.
Are you curious about the result after reading this case?
Would you like to know more about this case?
Do you have a question or would you like to discuss a project?