Standard software usually does not completely match your brand and work processes. After all, your company is also one of a kind. By using open source technology combined with custom modules or integrations, your objectives are achieved faster and business processes optimized.
Discovery
Why we use open source technology? We believe that the wheel does not have to be reinvented every time. By making smart use of existing proven frameworks, we can deliver a better endproduct within a the same budget. Based on the customer journey, we map out which components are needed. In the case of a (b2b) e-commerce this can be Magento, but we also often use frameworks such as Symfony or Laravel.
In this way we save a lot of time, unnecessary costs and we can use that to improve the endproduct with, for example, animations or extra building blocks.
Wireframing & design
We describe the functionalities and create wireframes. This way it is clear how the solution will work and nothing will end up between shore and ship. A wireframe can best be compared to the construction drawing of a home. The drawing shows where which functionality should be placed and how it should work technically. The corporate identity and design layer is still lacking. When the wireframes are completely according to your wishes, we then create a visually slick design. The eye also wants something.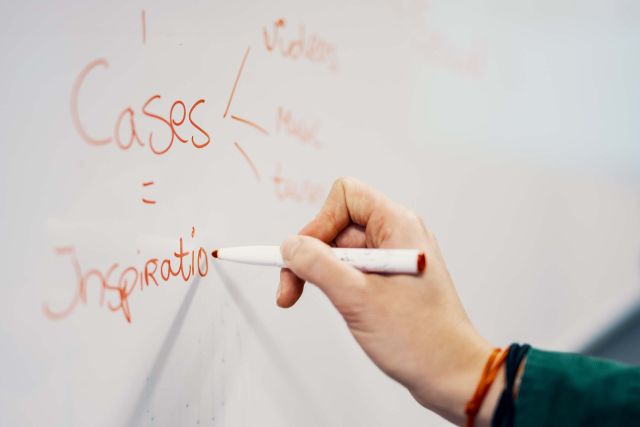 All functionalities are prioritized to use the budget as effectively as possible. Often the budget is not sufficient for all the ideas and requirements. This is not a problem. After all, many wishes are not necessary for a successful solution. We prioritize all userstories divide them into "Must", "Should" and "Could" and take up the challenge to realize as much as possible together. During the realization you get access to your own online Scrum board. On the board you can see real time the progress of your project team. This way you are involved in every step of the process.
Delivery
Once everything has been thoroughly tested, the time comes for delivery. Together we will go through everything one more time. We explain the final product and help you on your way. After launching, it doesn't stop for us. Through our active monitoring we keep an eye on things. If something goes wrong or if success leads to overload, we can take preventive action. This way we can solve potential problems before you or your user even notices. But you can always call/email for help or to spar with Bas or Arjen about new functionalities.
Project of uitdaging te bespreken?
Laten we erover praten!
Arjen denkt graag met je mee over jouw maatwerk oplossing.
Zonder kosten. Zonder directe verwachtingen. Beloofd.